Watermark taking shape in Millvale, PA!
9/14/2017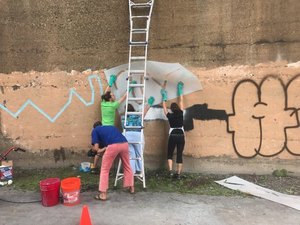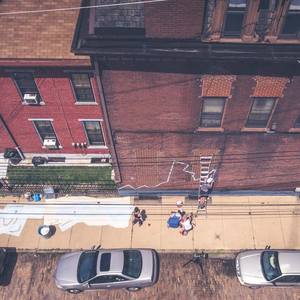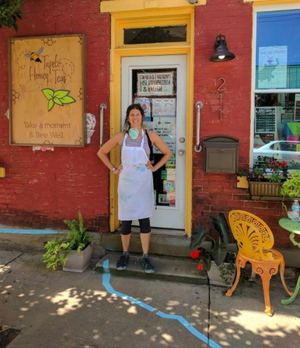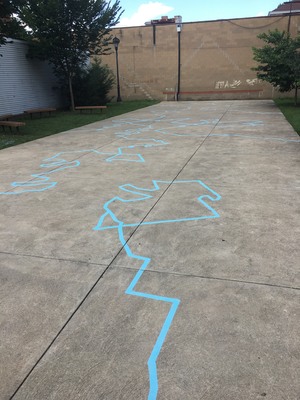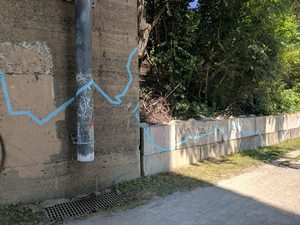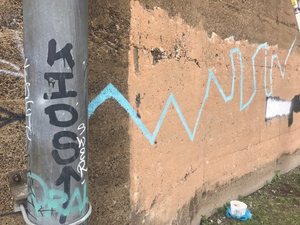 Watermark, a public project created as part of the Temporary Public Art and Placemaking Program of Neighborhood Allies and the Office of Public Art, is taking shape in Millvale, PA. This project is the result of months of conversation and collaboration with community partners in Millvale: the Millvale Community Development Corporation, Millvale Community Library, and the Society to Preserve the Murals of Maxo Vanka. The project is one of six currently in development through Neighborhood Allies target communities. It is supported with generous funding from the Heinz Endowments and Hillman Foundation.

Watermark refers to Millvale's past, present, and future, as a community literally and conceptually enmeshed with water. A single blue line snakes from Riverfront Park, across a busy intersection, and into the center of town, where it travels down main drag Grant Avenue and into Grant Avenue Pocket Park. The line and the forms it takes as it moves takes its inspiration from water--how it moves, travels, and supports life on all levels.

Stay tuned for more info and images as Watermark emerges and is finalized with a light-and-sound installation in GAP Park.
---
---
---
SEEP opens at Arlington Arts Center
3/2/2017
SEEEP, a curatorial project, opened at Arlington Arts Center on February 11 as part of the Center's Curator's Spotlight program. The exhibition will be on view through March 26. SEEP includes work by artists Caetlynn Booth, Rob Carter, Rachel Farbiarz, Bonnie Levinthal, Giulia Livi, and Patrick McDonough. The exhibition looks at how contemporary artists use water in their work--as medium, concept, or both.
---
Fellowship at Virginia Center for the Creative Arts
5/27/2016
I am wrapping up two weeks spent as a Fellow of the Virginia Center for the Creative Arts. I will be sad to leave my glorious (and enormous) studio, but am so grateful for the time I've had here. I have worked at various scales and across different media here, but focused on the aesthetics and process of collage. Click to see some images.